(You're receiving this email because you signed up for announcements on the Ketogenic-Diet-Resource.com website.)
This is just a short note to let you know our diabetes books are now available in paperback on Amazon. Both have shiny new covers and updated information.
The Ketogenic Diet for Type 1 Diabetes is here:
Conquer Type 2 Diabetes with a Ketogenic Diet book is here

: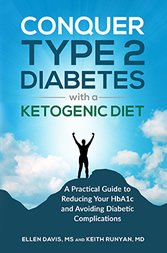 You can also purchase the electronic "ebook" versions on my website and download them for immediate reading. Just click on the book covers in the right-hand column of Ketogenic-Diet-Resource.com homepage to go to the ebook purchase page.
Until next time,
Ellen Davis
Ketogenic-Diet-Resource.com