---
One Skillet Bacon and Eggs
I love bacon and eggs for breakfast, but I get tired of the standard plain sunny side up with two strips on the side.  This recipe showcases a better way to combine these two great tastes, and the result is one of my favorite meals.  I sometimes make this for dinner because it's just so easy, and so good.  The addition of onions and carrots is unusual, but wait until you taste it!  And best of all, the clean up after cooking is extra easy.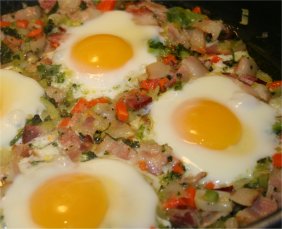 1 tablespoon butter
8 slices meaty bacon
1 carrot, peeled into thin strips
½ cup chopped broccoli or cauliflower
½ cup finely chopped celery
½ large white onion, chopped into small pieces
4 large organic eggs
½ cup shredded Colby jack cheese
Directions:
Slice the bacon across the grain into small strips.
Over medium heat, melt the butter in a large skillet. Add the vegetables and bacon.
Stirring often, saute the bacon and vegetables in the butter for about 20 minutes, until the bacon starts to crisp on the edges and the vegetables begin to caramelize.
Spread the mixture over the skillet evenly, and then make a well in each quarter section.
Break one egg into each well. Continue cooking until the eggs are almost done.  If you don't mind cooked yolks, just put a lid over the skillet and let the eggs steam until cooked through. (I like my yolks runny, so I let the whites cook enough until I can turn the eggs over and quickly finish the whites, leaving the yolk still liquidy.)
When the eggs are almost done, sprinkle the cheese over the top and let cook a little more until the cheese melts.  Serve hot.  Enjoy!
Variation
Instead of using broccoli, carrots and celery, use 6-8 ounces of turnips cut in a small dice, and make sure to cook the onions and turnips long enough to let them caramelize a little. The result tastes just like hash browns.. Delicious!
---
Baked Bacon and Eggs
2 tablespoons butter
4 large eggs
1 cup grated cheddar cheese
1 cup heavy cream, heated to lukewarm
8 slices cooked bacon, crumbled
salt and pepper to taste
Directions:
Preheat the oven to 350 degrees F. Butter 4 small glass or ceramic ramekins (6 oz size).
Break one egg into each ramekin. 
Cover each egg with 1/4 cup of cheese and 1/4 cup of heated cream and season with salt and pepper to taste.
Place the ramekins in a pan and fill with enough water to come half up the sides of the ramekins.  (It's easier to do this if you put the pan containing the filled ramekins in the oven first and then pour in the water.) 
Bake for 15 minutes, or until the cheese is melted and the egg whites are mostly done. 
Crumble two slices of cooked bacon over each egg and serve immediately.

---
---