Solve Your Health Issues with a Ketogenic Diet
Ketogenic diets are metabolically powerful, and they can be life changing. When I shifted to a low carb, fat burning diet, I normalized my high blood pressure, banished heartburn, stopped annoying joint pain, and reversed my pre-diabetes. You can do the same.
On this website, you'll find information on how these diets work, the right way to "do" the diet, and the details on how you can increase your energy and improve your health simply by changing the way you eat.
What is a ketogenic diet?
Contrary to popular rhetoric, a ketogenic, low carb diet is NOT a high protein diet. It's a high fat diet, with a moderate protein and a very low carbohydrate intake. A typical ketogenic meal includes a small amount of protein, a source of natural fats (for example, butter, cream sauce, olive oil, or coconut oil) and some green leafy vegetables.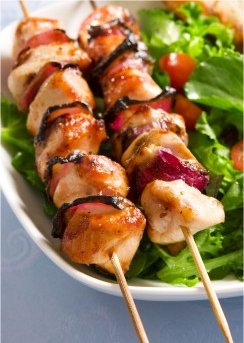 When you reduce the amount of carbohydrate and increase the fat and protein in your diet, it has the effect of switching your body into fat burning mode. Instead of using the easily exhausted sugar from carbohydrates for fuel, your body burns stored fat for energy, and it's this fat burning process which greatly improves health and well-being.
In fact, a ketogenic, high fat, moderate protein diet can alleviate many serious health issues. Medical researchers and physicians are using ketogenic, carb restricted diets to:
And many people, including myself, have discovered that a ketogenic diet is a very effective tool for regaining health, losing excess weight and building a muscular, healthy body.
---
What makes the ketogenic diet so effective?
It all starts with a process called ketosis, and the effect that it has on each one of the trillions of cells in our bodies. In short, ketosis means more energy and cleaner metabolic fuel processes in our cells, which leads to less oxidative stress, better cell health, better organ health, and better health overall.
But isn't a high fat diet unhealthy?
Actually, a high fat diet is healthier for you, when it is eaten while carbohydrate consumption is kept low.
A diet high in clean saturated fats and low in carbohydrates actually raises your HDL good cholesterol and lowers your triglycerides. These two factors are really the true measure of good heart health.
More and more people are discovering the benefits of eating more fat, and reducing carbohydrate consumption.
Literally thousands of people have gone on the Atkins diet, or the Protein Power diet, or some other higher fat, low carb diet and reaped the benefits. They have resolved nagging health issues (high blood sugar, hypertension, heartburn, joint pain, etc.), reversed serious disease processes, lost weight, felt better, and rarely felt hunger.
---
---
Ready to learn more?
Let's get started! We'll cover topics such as:
Here's a site map to help you quickly find what you need.
Use this search engine to find topics of interest on this site.
Here's the scoop on how to start a ketogenic diet plan, what to expect, whether it's dangerous and the great benefits.
I created these low carb recipes for myself and my family, so they are people tested and delicious!
This low carb food list will help you decide which foods to choose on a ketogenic diet.
Here's a few examples of a ketogenic diet menu.
Low carb cooking can be fun and unique. Here's some tips on how to get started.
Here's a handy carb counter to help you track carb intake.
I recommend these ketogenic low carb diet plans. The associated books are easy to read, and the diets are based on years of experience and sound scientific research.
The myths about low carb dieting are traded freely among those who just don't know any better. I've tried to shine some light on these falsehoods here.
Ketosis is a natural metabolic process which helps the body survive during times of starvation. It also plays an integral part in protecting and healing the body from many diseases.
Ketoacidosis is dangerous, ketosis is not. Here's an explanation why.
Reactive hypoglycemia is a transient reaction associated with beginning a low carb diet. Find out how to avoid it here.
Here's how switching to an acid reflux diet such as the ketogenic diet can eliminate heartburn and GERD.
Here's how a ketogenic diet slows the aging process.
Recent research is demonstrating that alzheimers disease can be treated and in some cases improved with a ketogenic diet.
The rsearch into autism diet treatments begins with a ketogenic diet. Learn more here.
Mainstream cancer treatments are expensive and ineffective. Can a ketogenic diet help?
Learn how to use a ketogenic diet as a cancer diet treatment. The diet has the added benefit of reducing the side effects of chemo and radiation treatments as well.
An effective diabetes treatment is one which helps the patient control blood sugar and insulin in the easiest manner. Here's where a ketogenic diet shines.
Have you been diagnosed as insulin resistant? Learn why and how to reverse it here.
This pre diabetes symptoms list can help you determine if you are at risk for diabetes.
Don't believe the mainstream lies about the causes of coronary heart disease. Get the facts here.
The ketogenic diet is a safe and extremely effective epilepsy treatment. So why do doctors choose toxic drugs first?
A ketogenic diet is an excellent method for treating fatty liver disease, because it gets to the root of the problem.
The list of gluten allergy symptoms is long, but most can be relieved by following a ketogenic diet plan.
Many mental disorders can be improved by following a low carb, no grain, ketogenic diet.
Recent research on the use of a ketogenic diet in Parkinsons Disease is showing improvement in symptoms. Learn more here.
A ketogenic, low carb diet is the best weight loss program because it addresses and fixes the hormonal imbalance that results in extra stored fat. Here's how it works.
Here's an easy to understand explanation of why we get fat, and how we can reverse the process.
A ketogenic, low carb diet is the best way to lose weight. Here's how to do start the diet and take that extra weight off.
A weight loss plateau can be disheartening and frustrating. Here's some tips on how get past it and start losing weight again.
Here's my story on my weight loss struggles, and what I had to do to drop over 70 pounds.
Information about the author of Ketogenic Diet Resource
Use this form to contact us with your questions and comments.
Here are some of my favorite resources which explain why low carb diets are healthier.
Please read our legal disclaimer before using our website.