Ketogenic Cancer Diet Ebook - NEW Third Edition!
The ketogenic diet is a natural, non toxic, science based cancer diet which can be used for cancer prevention and treatment management. It works because cancer cells are dependent upon a constant supply of blood sugar (glucose) to stay alive and while normal cells can use ketones as an alternative fuel, cancer cells can't.
Ketogenic diets lower blood glucose while increasing ketone levels, a metabolic state which effectively starves cancer cells while nourishing normal cells. This essential, well referenced book is based on cutting edge research on ketogenic dietary therapies from Dr. Dominic D'Agostino and Dr. Thomas Seyfried at Boston College, with his generous permission.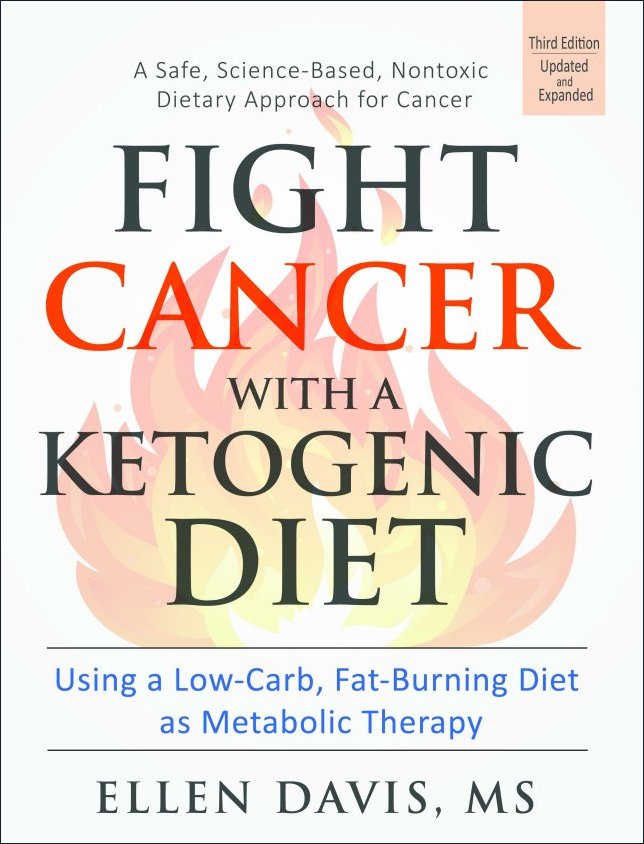 Updated for 2017, the Fight Cancer with a Ketogenic Diet, Third Edition electronic book offers 150 pages of the latest information on the new research and complementary therapies, plus:
how and why a low carb, ketogenic diet works to stop cancer cells, how to implement the diet and how to monitor your progress

blood glucose and ketone level targets recommended to destroy cancer

what foods to choose and how much to eat


why certain foods must be restricted

use of calorie restriction and fasting

whether alcohol is allowed

the debate between acidity vs alkalinity

appropriate supplementation and much more.
Download a "Quick Peek." Ten percent of the profits from the Fight Cancer eBook go to support the ketogenic research of Dr. Seyfried and his team at Boston College, and Dr. Dominic D'Agostino's work at the University of South Florida.
---
The Fight Cancer with a Ketogenic Diet, Third Edition eBook is an electronic file in Acrobat PDF format.  It will be delivered as a downloadable PDF file via a digital link in an email*. 
Cost: $24.95



Payments secured. Pay by PayPal or credit card.

*If you plan to open the book on an iPhone or iPad, you will need the free iBooks app or other PDF reader to access the book.
---
In addition, Fight Cancer with a Ketogenic Diet is now available in paperback form on Amazon.
---
Not sure this cancer diet eBook is for you? Click here to download a "Quick Peek."  You can view the Table of Contents and introductory information.  In addition, for an independent assessment, the authors of several blogs have posted reviews of the "Fight Cancer with a Ketogenic Diet" eBook:
Alix Hayden, a Canadian woman who was diagnosed with a brain tumor in July 2012 decided to use a ketogenic diet as a management plan since her cancer was not aggressive. She has been writing about her experiences on her blog "GreyMadder.net", and today she posted a really nice review of my "Fight Cancer with a Ketogenic Diet eBook". I'm happy to say she has found the book helpful and her recent medical tests indicate her tumor has NOT progressed. Yea, Alix!
Fred and Alice Ottoboni, authors of the fantastic book The Modern Nutritional Diseases: and How to Prevent Them (Second Edition) posted a review of my ebook on their excellent blog Ketopia.com. Thanks to you both!
---
Why Create the Book?
I researched and wrote this eBook because many, many people emailed me asking for information about a ketogenic diet for cancer patients, and there is currently no comprehensive guide on implementing a ketogenic diet to treat cancer in the mainstream literature.
While the implementation of a ketogenic diet for cancer patients should be monitored by a qualified and knowledgable health professional, the number of health professionals available with knowledge on how to implement the ketogenic diet for cancer patients is limited. I feel that so many people need help with basic questions on the process, and the book is helping to fill that knowledge gap. The people who have already purchased have written me many wonderful emails full of positive feedback, and I'm grateful I was able to help them during such a rough period in their lives.
In addition, my own research has convinced me that this dietary protocol will be instrumental in changing the way cancer is prevented and treated.  It is my hope that every hospital in the world will eventually have dedicated teams to helping cancer patients implement the diet, just as they do for children with epilepsy.  
---
Some History on Metabolic Dietary Therapy for Cancer Treatment
In 1924, Dr. Otto Warburg, a Nobel Prize winning biochemist, proposed the hypothesis that cancer is a metabolic disease. Dr. Warburg showed in his studies that cancer cells exhibit a preference for using sugar to fuel themselves, even when oxygen needed for normal cellular energy processes is available. He wrote:
"Cancer, above all other diseases, has countless secondary causes. But, even for cancer, there is only one prime cause. Summarized in a few words, the prime cause of cancer is the replacement of the respiration of oxygen in normal body cells by a fermentation of sugar."
~Otto H. Warburg
Until recently, Dr. Warburg's hypothesis has been marginalized by the persistent belief in the oncology world that cancer is a genetic disease. However, in a new book Cancer as a Metabolic Disease: On the Origin, Management, and Prevention of Cancer, Dr. Thomas Seyfried has placed Dr. Warburg's efforts to solve the cancer puzzle back in the medical limelight.
The ketogenic cancer diet for cancer is a very low carb, moderate protein, high fat diet which targets cancer cell glucose metabolism. This cancer diet is designed to target cancer cell vulnerabilities by reducing the sugary fuel and other metabolic factors which promote cancer growth, while at the same time protecting normal cells from the toxic effects of traditional therapies.
In the Fight Cancer with a Ketogenic Diet eBook, we explore the details of this dietary solution and discuss why it works and how to implement it. Get the facts on the how and why metabolic diet therapy is the most promising cancer treatment available to cancer patients. The diet has been shown in formal research studies to be especially successful in treating cancers which are highly visible on a FDG-PET scan.
More Information
For more information about other research being done on cancer treatments using ketogenic diets, here's the
results of a search
on cancer treatments that I did on
PUBMED
using the terms "ketogenic and cancer". As you can see, there are over 7 pages of studies listed.
In addition, Dr. Georgia Ede has an excellent article here on treating cancer with diet.
Dominic D'Agostino, Ph.D , a research scientist who specializes in cancer and mitochondrial disease research, has a blog here on which he discusses the research for using a ketogenic diet as a cancer diet. He recently spoke at TEDxTampa and did an interview with Dr. Joe Mercola on this subject. The Single Cause Single Cure organization has been formed to provide funding for metabolic therapy research.
You can also visit my page which talks about what causes cancer, and why cancer research has been somewhat ineffective in eradicating cancer, or even reducing the rates of cancer in the USA.
---
A Podcast About the Fight Cancer Diet Book
You can also listen to a podcast interview I did with Erin Chamerlik of Get Better Wellness about the Fight Cancer with a Ketogenic Diet eBook. We talk about how I came to write the book, what's in it, the state of American health, how the diet for cancer patients works, and more.
---
Done with Cancer Diet, back to Home.

---
All of my books are available in electronic PDF, and now in paperback on Amazon!
---