Versatile Low Carb Sauces
These low carb sauces are very versatile. Plain poultry or fish can be dry and boring, so adding one of these tasty sauces can spruce up a bland low carb meal in a snap.
---
---
Tarragon Cream Sauce
This sauce is excellent over baked chicken.
2 ounces white onion, minced
3 garlic cloves, minced
2 tablespoons butter
1/2 cup chicken broth.
1/4 cup dry white wine (ie. Pinot Grigio)
3 ounces cream cheese
1/2 cup of heavy cream
1 teaspoon Herbs de Provence
1/2 teaspoon tarragon
salt to taste
In a medium skillet, saute the onions and garlic in butter until soft.
Add the broth, wine and cream cheese.
Stir until cream cheese is melted.
Add the cream and spices and stir until mixed well. If it seems too thick, add more chicken broth.
Nutrition info: 1 ounce has 72 calories, 7 grams of fat, 1 gram of protein, and 1 gram of carb.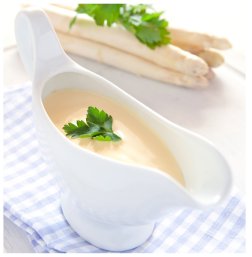 Creamy Lemon Dill Sauce
Now here's a sauce for seafood. It's good over baked salmon, crab cakes, fish, scallops or any other seafood you have on hand.
1/3 cup sour cream
1/3 cup mayonnaise
1 tablespoon finely minced onion
1 teaspoon lemon juice
1 teaspoon prepared horseradish
3/4 teaspoon of dried dill weed
1/4 teaspoon of garlic salt
White pepper to taste
In a small mixing bowl, whisk all ingredients together until smooth.
Use a dipping sauce, or spoon it over baked fish, crab cakes or seafood casseroles.
Nutrition info: 1 ounce has 89 calories, 9 grams of fat, and 1 gram of carb.
---
---
Done with Low Carb Sauces, back to Low Carb Recipes
---
All of my books are available in electronic PDF, and now in paperback on Amazon!
---