Ketogenic Survival Food
Ever thought about what survival food you would store if you are following a ketogenic diet?  It's worth thinking about because even if you aren't on a ketogenic diet, storing foods higher in protein and fat may help you and your family get through a disaster more easily, and make it more likely you'll survive a time period when food might not be available to buy.  
Ketogenic Survival Foods for Preppers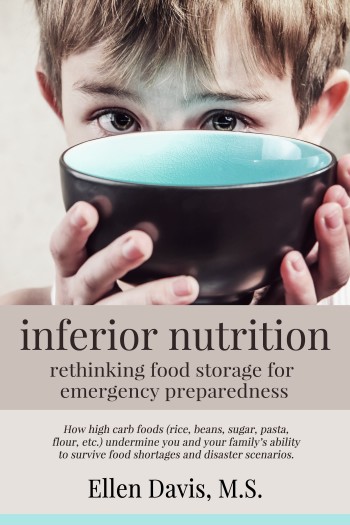 My fourth book, Inferior Nutrition is starting to get some attention with all of the corona virus anxiety!  The book is about storing the right foods for use during a disaster, and explains why storing high-carb foods like rice, sugar and beans should be secondary to storing foods high in protein and fat.
Looking through the lens of two very different starvation studies, I discuss why living on high-carb foods during privation would accelerate starvation.  I wrote this book after reading the novel "One Second After" in which an electro-magnetic pulse or EMP takes out the electrical grid in the Eastern United States.  It prompted me to do some research and after reading a few more expert and science-based books on the subject of EMPs, I found that much of what the authors said about starvation just wasn't true, biochemically speaking.  
If you are interested in ketogenic disaster planning, you can buy inferior nutrition in PDF format using the button below. Once purchased , an email with a link to download the book will be delivered to the inbox of the email address you provided.
Price: $3.99
Or if you prefer, the book is available on Amazon in kindle and paperback.  I hope you find the book helpful, and please let me know if you have questions or comments via my contact page.

---
All of my books are available in electronic PDF, and now in paperback on Amazon!
---