Bacon Mayonnaise
Ever heard of bacon mayonnaise? It's an unusual idea, but it's a tasty idea as well. This recipe is adapted from Jennifer McLagan's recipe in her book "Fat, An Appreciation of a Misunderstood Ingredient".  This recipe provides a great way to use the leftover bacon grease from my recipe for how to bake bacon. Most people think that bacon grease is a super-unhealthy fat, but in reality, it has a healthy mix of both monounsaturated and saturated fats, and it very low in polyunsaturated fatty acids, the most unstable type of fat found in vegetable oil.  Monounsaturated fatty acids, which make up about 45 percent of the fat in bacon grease is the same type of fat found in olive oil. So enjoy your bacon mayonnaise!

---
---
 Bacon Mayonnaise: the Ultimate Taste in Bacon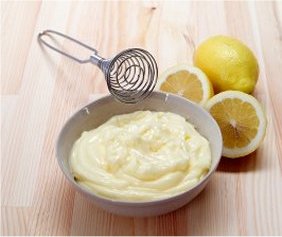 Yield: About 1/2 cup

Ingredients:
1 egg yolk, preferably organic from pastured chickens
3/4 teaspoon Dijon mustard
1 teaspoon freshly squeezed lemon juice or white wine vinegar
Sea salt and freshly ground pepper
1/4 cup liquid bacon fat in a glass measuring cup mixed with 1/4 cup light olive oil
Directions:
Combine the egg yolk, mustard and lemon juice in the small bowl of a food processor and process to mix.
Have the bacon fat/olive oil in a liquid state, but not hot.
With the machine running, gradually add the bacon fat and olive oil in a thin stream until the mixture starts to stiffen and emulsify, about 2 minutes.
If the mayonnaise gets too thick, just blend in 1 teaspoon of boiling water to thin it.
Taste and adjust the seasoning.
---
---
Using Bacon Fat Mayonnaise
Here are some ideas for enjoying this mayonnaise:
Enjoy this on sliced tomatoes and crispy bacon all wrapped up in a lettuce leaf for a low carb BLT.
Spread it on a beef hamburger for extra taste.
Spread it on sliced turkey and roll it up for tasty snack.
Make chicken salad with it.
Substitute it for regular mayo in this

egg salad recipe

.
Add it to the yolk mixture used in deviled eggs.
Use it instead of the butter used in making these

almond flour recipes

.
Spread it over grilled or baked salmon fillets.
There's a great post by Serious Eats on making mayonnaise from not only bacon fat, but other rendered animal fats as well. They include mayo made from duck fat and beef tallow.  The duck fat mayo is one I'm going to have to try, and I also have goose fat in my fridge. Time to experiment!

---
Cookbook Resources
---
---
All of my books are available in electronic PDF, and now in paperback on Amazon!
---