Low Carb Baked Salmon Recipes
Here's a couple of low carb baked salmon recipes that are delicious and easy to make.  If you end up with leftover fish, it can be mixed with mayonnaise and cream cheese for a great salmon spread. Or it's also great mixed into scrambled eggs and an ounce of whipped cream cheese.
---
Herb Baked Salmon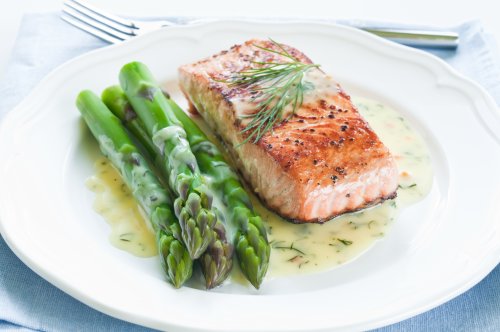 The herbs used in these recipe are dried.  If you're using fresh, you may want to increase the amounts a bit since dried herbs are much stronger.
2 pounds salmon fillets
4 ounces sesame oil
1/2 cup tamari soy sauce
1 teaspoon minced garlic
1/2 teaspoon ground ginger
1/2 teaspoon basil
1 teaspoon oregano leaves
1/4 teaspoon thyme
1/2 teaspoon rosemary
1/4 teaspoon tarragon
4 ounces butter
1/2 cup chopped fresh mushrooms
1/2 cup chopped green onions
If you have one large, single fillet cut it into 1/2 pound pieces. Get a quart size freezer style ziploc bag.
Stir together the tamari sauce, sesame oil and spices. Put the salmon into the ziploc bag and pour in the sauce mixture.
Refrigerate the salmon, skin side up, in the marinade for 1-4 hours.
Preheat oven to 350 degrees F. Line a large baking pan with foil.
Pour out the fillets and marinade into the pan. The fish should be in a single layer.
Bake fillets for 10-15 minutes.
While the salmon is baking, get vegetables ready.
Melt the butter. Add the vegetables to it, and mix to coat vegetables.
Remove the salmon from the oven, and pour the butter mixture over the salmon fillets, making sure each fillet gets covered.
Bake at 350 degrees F. for about 10 minutes more. Serve immediately.
Nutrition info for 8 ounce serving: 353 calories, 23 grams of fat, 32 grams of protein, 2 grams of carb, 1 gram of fiber.
---
---
Baked Salmon Recipes II
2 cloves garlic, minced
6 tablespoons light olive oil
1 teaspoon dried basil
1 teaspoon salt
1 teaspoon ground black pepper
1 tablespoon lemon juice
1 tablespoon fresh parsley, chopped
2 (6 ounce) salmon fillets
In a medium glass bowl, prepare marinade by mixing the garlic, light olive oil, basil, salt, pepper, lemon juice and parsley. Place salmon fillets in a medium glass baking dish, and cover with the marinade. Marinate in the refrigerator about 1 hour, turning occasionally.  
Preheat oven to 375˚F. Place fillets in aluminum foil, cover with marinade, and seal. Place sealed salmon in the glass dish, and bake 35 to 45 minutes, or until easily flakes using a fork.
Nutrition info for 6 ounce serving: 436 calories, 30 grams of fat, 37 grams of protein, 2 grams of carb, 1 gram of fiber (assuming half the oil is left in baking pan).
---
My Favorite Low Carb Cookbooks
---
---
All of my books are available in electronic PDF, and now in paperback on Amazon!
---