Low Carb Cilantro Pesto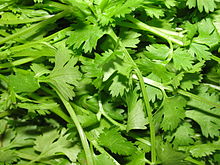 Here's my cilantro pesto recipe. I like to use fresh cilantro in salsa, but it also makes great pesto. I make a bunch in the summer and freeze it. It's excellent warmed and spooned over just about any dish.
Cilantro is also called Chinese parsley in some grocers and the spice made from the plant seeds goes by its other name, coriander. Coriander is one of my favorite spices.  It has a warm, peppery flavor that's great in any Mexican dish, although it is used quite a bit in Indian curries.
---
---
Ellen's Cilantro and Garlic Pesto
Makes about 2 cups
4 cups firmly packed cilantro leaves (each cup will be about a ¾ ounce of leaves)
5 large cloves garlic, chopped
Salt and black pepper to taste
½ cup virgin olive oil preparation, divided (use more oil if you like you're a less dense pesto)
1/3 cup walnuts
1/3 cup cashews or other sweeter nut (pecans, macadamias)
4 oz parmesan cheese, coarsely grated
2 tablespoons softened butter


Pack food processor with cilantro and pulse a few times to mince.
Add garlic, salt, pepper and about ¼ cup olive oil.  Process until mixture has a fine consistency.
Stop processor motor and add nuts, cheese and butter, then process until smooth. If the mixture becomes too thick to mix, add more olive oil. You can also add more olive oil if you like a thinner sauce.
This pesto recipe will keep for about two weeks in the refrigerator, as long as the surface is covered with plastic wrap. It can be frozen for 6-8 months.
Nutrition Info: Serving size 2 tablespoons. 136 calories, 13 grams of fat, 4 grams of protein, 2 grams of carb, 1 gram of fiber.
More Ideas for Using Cilantro
Cilantro is excellent chopped and added to salads
Fry up some onions and cilantro and add to scrambled eggs, then top the eggs with salsa
Make it into the pesto above and serve with pork loin
Add it to marinades for chicken
Add it to ground beef for burgers
Chop it fine and sprinkle it on tomato slices, cover the slices with mozzarella and broil until cheese is melted and beginning to brown
MInce it fine, mix it with butter and serve with steak or beef tips
Add minced cilantro and salt to a mixture of sour cream and mayonnaise to make a quick dressing

---
More Recipe Resources
---
---
All of my books are available in electronic PDF, and now in paperback on Amazon!
---