Ellen's Low Carb Bread 
This low carb bread recipe is a staple at our house.  You can make it into different shapes and sizes, and it travels and freezes well.  Since the almond flour is so dense and filling, I make small rolls that are great for busy people who need food that can travel.  This recipe was adapted from Maria Emmerich's recipe.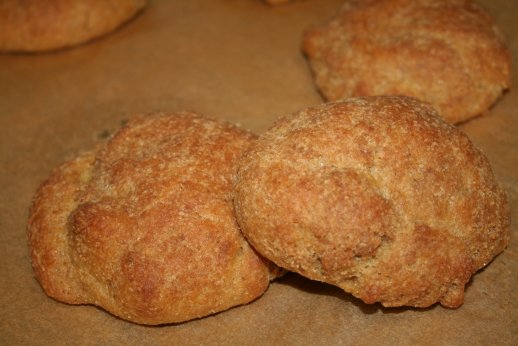 1 ¼ cup blanched almond flour (Honeyville Grain brand works best)
2-5 tablespoons psyllium husk powder*
1 teaspoon baking powder
1 teaspoon Celtic sea salt
4 ounces cream cheese
3 tablespoons butter
1 large egg
1 cup BOILING water 
Optional addition:  4 tbsp non carb oat fiber (makes a denser, less sticky bread)
*if you use psyllium SEED, instead of husk, you will end up with a BLUE flat bread.  This is because psyllium seeds have iridoid compounds in them which turn blue when heated in the presence of protein.

Preheat the oven to 350 degrees F. In a medium sized bowl, combine the flour, psyllium powder, baking powder, salt and oat fiber, if using. Whisk until dry ingredients are well combined.
In a separate glass bowl, soften the cream cheese and butter in a microwave or in a saucepan on the stove.
Remove from heat and whisk until glossy. Allow to cool for a few minutes. Add in the eggs and whisk until smooth. Add the wet ingredients to the dry ingredient and mix until a firm dough is created. Now use a fork to break up the dough into small chunks, so that it is easier to mix with the boiling water.
Add boiling water all at once into the bowl. Whisk/stir until well combined and dough starts to firm up. After a moment or so, the dough will become very stretchy and sticky.
Use a small measuring cup (such as a 1/4 cup) or a spoon, scoop the dough out and form into desired shape and place onto a parchment paper lined baking sheet. While baking, the dough will double or triple in size depending on how much psyllium you used.
Bake for 45 to 55 minutes. Remove from the oven and allow the bread to cool completely. Cut open with a serrated knife.** Toast or eat as is, or use as bread for small sandwiches.
**The insides of this low carb bread may be a little gummy because of the fats in the bread, but I include them because they really add great flavor.  Splitting and toasting the bread after it cools will help with this.

For those who avoid dairy, there's a dairy free low carb bread recipe here.

---
---
Nutrition for Low Carb Bread
Nutrition: Entire recipe (divide by number of rolls made): 1401 calories, 129 grams fat, 52 carbs, 36 grams fiber, 15 net carbs, 37 grams protein.
Assuming 6 rolls, each roll: 234 calories, 21 grams fat, 9 grams carbs, 6 grams fiber, 3 net carbs, 6 grams of protein.
This recipe can be doubled and freezes well.
---
---
All of my books are available in electronic PDF, and now in paperback on Amazon!
---