Low Carb Chicken Recipes
These are three of my favorite low carb chicken recipes. They are delicious, and leftovers make a tasty and quick lunch the next day. I've included a super easy one for the stovetop, and two that take a little more time or a trip to the oven.
---
---
Pesto Chicken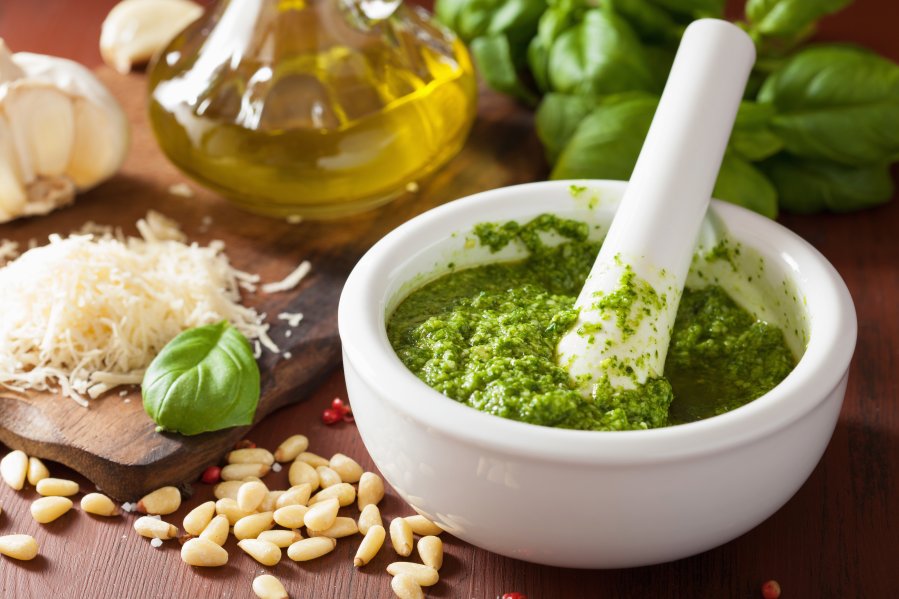 Buy a roasted chicken and some pesto on the way home, and make this quick and easy recipe.  It's my go-to for evening meals when it has been a busy day.
1 tablespoon butter
2 cups cooked chicken, cut into bite sized chunks
3 tablespoons of Buitoni pesto sauce, or your own homemade pesto sauce
2 ounces cream cheese
2 ounces heavy cream
Directions:
Add all the ingredients to a skillet, and warm over low to medium heat until the mixture is hot. 
Serve with a salad. Makes 2 servings.

---
Chicken in Herb Cream Sauce
5 tablespoons butter, divided
2 small white onions, thinly sliced
3 large garlic cloves
½ cup chicken broth
½ cup dry white wine
8 oz cream cheese
½ cup heavy cream
1 tsp dried tarragon
1 ½ tsp Herbes de Provence
1 tsp chicken seasoning* 
Salt to taste
4 raw chicken breasts
Directions:
Over medium heat, saute onions, garlic and tarragon in 2 tablespoons of butter until soft. Remove from skillet and set aside.
In same skillet, add 2 tablespoons of butter and melt over low heat. Add wine. Add cream cheese and stir until melted and mixed with the wine and butter. Add cream and spices and stir until mixed.
Preheat oven to 350 degrees F. Use 1 tablespoon of butter to grease a 9/13 glass baking dish. Pour chicken broth into baking dish.
Add chicken to baking dish in a single layer.
Spoon the onion mixture over the chicken in even proportions.
Spoon the cream sauce mixture over chicken and onions. Bake at 350 degrees for 45 minutes to one hour.
Serve with a salad. Makes 4 servings.
*or similar mix of onion, garlic, bell pepper, lemon and paprika

Nutrition info per serving: 478 calories, 46 grams of fat, 11 grams of protein, 5 grams of carb, 1 gram fiber.
---
---
Chicken Guadalajara
2-3 tablespoons butter
4 ounces of white onion, chopped fine
3 garlic cloves, minced
4 boneless, skinless, chicken breast halves
2- 6oz cans diced tomatoes and green chilies
4 oz full fat cream cheese, cut into slices or cubes
¼ cup whipping cream
¼ cup chicken broth
½ teaspoon cayenne pepper (to taste)
1 teaspoon dried cumin
½ teaspoon garlic powder to taste
1 teaspoon sea salt
grated cheddar cheese for garnish
sour cream for garnish
salsa for garnish
Directions:
Wash and pat dry chicken breasts, slice across in ½ " slices.
In a medium skillet, over medium heat, melt butter and saute onions and garlic until soft.
Add chicken, and using spatula turn to cook all sides of slices until juices run clear.
Decrease heat to medium low, and add tomatoes, spices and chilies. Cover, and allow chicken to simmer for another 8-10 minutes.
Add cream cheese and cream, and stir until cheese is melted, and chicken and vegetables are coated. Add broth to thin if sauce is too thick.
Makes 4 servings. Top with garnishes if desired.
Nutrition info per serving: 478 calories, 46 grams of fat, 11 grams of protein, 5 grams of carb, 1 gram fiber.
---
The trick of staying low carb when cooking is to start with a protein source and then keep the recipe additions low carb as well. It's the same with these low carb chicken recipes. Chicken has no carbs in it, and if you stay with higher fat sauces like the three above, the total carb count will stay low. You can even go with a higher carb sauce like tomato based sauces, as long as each serving has more meat than sauce. Tomato sauce is higher in carbs so it should just be a light coating.
I hope you enjoy these recipes, and don't forget to check back, as I'll add more low carb chicken recipes as I develop them.
---
---
All of my books are available in electronic PDF, and now in paperback on Amazon!
---
Done with Low Carb Chicken Recipes, Back to Low Carb Recipes