Low Carb Pie Crust
This low carb pie crust is based on almond flour, and actually tastes better than a conventional wheat flour based crust. I use it for making miniature tarts crusts for appetizer bases. Although I haven't tried it, I would imagine it would work just as well for a regular sized pie crust.
---
---
Almond Flour Low Carb Pie Crust
2 cups almond flour
4 tablespoons melted butter
2 large eggs
1 teaspoon salt
Place the almond flour in a medium mixing bowl and add the butter. Mix well.
Add the eggs and salt and mix throughly. The dough should come together, and pull away from the sides of the bowl and start to make a ball as you mix it. If it still seems sticky, add a little more almond flour and keep mixing until you get to a dough consistency that can be rolled out.
Place the dough ball between two sheets of parchment paper.
Using a heavy rolling pin, roll the dough out into a 10" x 16" rectangle with about a 1/4 inch thickness.
Suggested Use: Making Miniature Tart Shells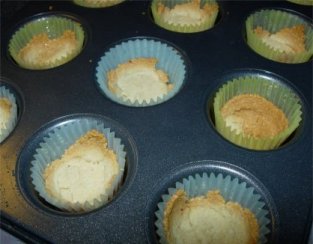 For miniature tarts, use a 2" biscuit cutter to cut circles into the dough. Put a miniature cupcake paper into each well of a miniature cupcake pan.
Take each dough circle and carefully press it into a paper cup. This is easier if you use a Mini Tart Shaper.
If the dough breaks, just add a bits of dough into the holes and press again with the tart shaper.
Bake at 350 degrees F for about 5-6 minutes or until edges are golden.
These mini tart crusts are fantastic when used as a base for low carb appetizers.
---
---
---
All of my books are available in electronic PDF, and now in paperback on Amazon!
---