Low Carb Snacks
These low carb snacks are helpful when the munchie bug strikes.  Full of flavor, they are tasty enough to help you stick to a ketogenic diet even when you are short on time or plagued by cravings.  You can probably come up with more according to your individual tastes.
---
---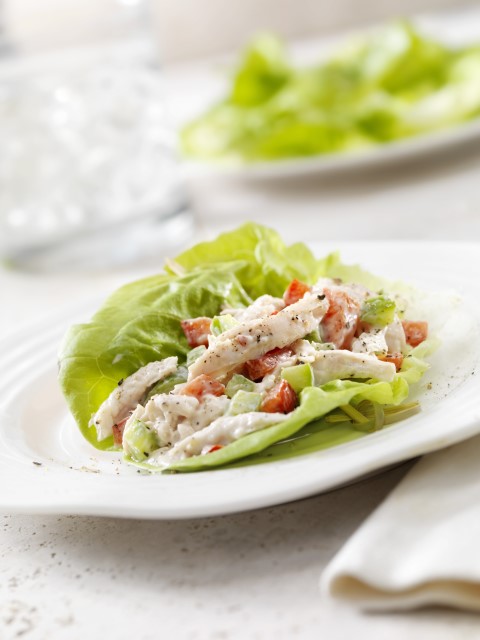 Spread a slice of ham, turkey, or salami with cream cheese or mayonnaise, add a slice of cheese, and roll it up by itself or in a lettuce leaf 
Wrap cooked bacon, tomato chunks, and mayonnaise or cream cheese in a lettuce leaf 
Cut cooked steak, pork, or chicken into small pieces and mix with mayonnaise, sour cream, cream cheese, or avocado and wrap in lettuce leaf
Deviled eggs (see recipe below) or hard-boiled eggs sliced and spread with mayonnaise or sour cream 
Smoked salmon slices spread with cream cheese mixed with dill and lemon juice 
Smoked salmon mixed with scrambled eggs and topped with cream cheese
Crab meat mixed with cream cheese and lemon juice on cucumber slices
Shrimp with minced onion, mayonnaise, and dried dill on cucumber slices
Beef jerky cured without sugar (Organic Prairie brand is a good choice)
---
---
---
Deviled Eggs (or Egg Salad)
6 hard-cooked eggs, peeled and cut lengthwise
1 tablespoon of minced onion
1/4 cup mayonnaise
1/2 teaspoon dry ground mustard
salt to taste
1/4 teaspoon ground black pepper
Dried dill for garnish
Move the cooked egg yolks to a small bowl and mash with a fork. Add mayonnaise, onion, mustard, salt and pepper and mix until creamy and smooth. Fill the empty egg white shells with the mixture and sprinkle lightly with dill. Cover lightly with plastic wrap and refrigerate for up to one day before serving.
Variation: instead of separating them, chop up the whole eggs and add the rest of the ingredients. Mix all together for egg salad.
---
More Recipe Resources for Low Carb Snacks
---
---
All of my books are available in electronic PDF, and now in paperback on Amazon!
---