Low Carb Pesto Recipe
Here's an affordable and delicious pesto recipe. We grow basil in our greenhouses each Summer, and I make multiple batches of pesto and freeze it. It's so great to pull out a container in January, thaw it out and have fresh pesto over sliced tomatoes and brie.
You'll notice that the recipe doesn't call for pine nuts. There are two reasons for this. First, they are ridiculously expensive, and second, I don't like the musty flavor they add to the pesto.
---
---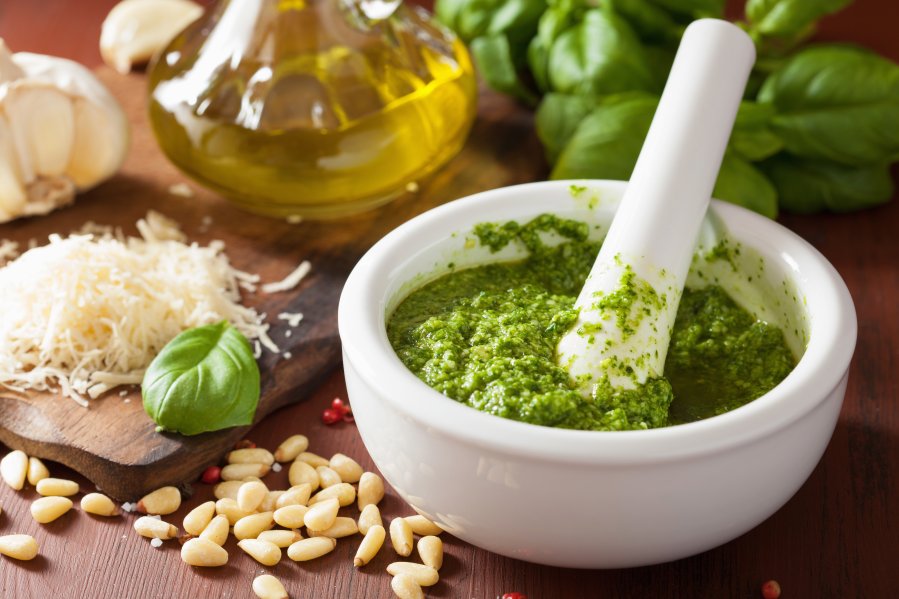 Ellen's Pesto
Makes about 2 cups
4 cups firmly packed fresh basil (each cup will be about a ¾ ounce of leaves)
5 large cloves garlic, chopped
Salt and black pepper to taste
½ cup extra-virgin olive oil preparation, divided (use more oil if you like you're a less dense pesto)
1/3 cup walnuts
1/3 cup cashews or other sweeter nut (pecans, macadamias)
4 oz parmesan cheese, coarsely grated
2 tablespoons butter
Directions
Pack food processor with basil and pulse until leaves are cut down into small pieces.
Add garlic, salt, pepper and about ¼ cup olive oil.  Process until mixture has a fine consistency.
Stop processor and add nuts, cheese and butter, then continue processing until finely grained and well mixed. If the mixture becomes too thick to mix, add more olive oil. You can also add more olive oil if you like a thinner sauce. I like to be able to spread it, so I let it stay thick.
Pesto will keep for about two weeks in the refrigerator, as long as the surface is covered with plastic wrap. It can be frozen for 6-8 months.
Nutrition Info: Serving size 2 tablespoons. 136 calories, 13 grams of fat, 4 grams of protein, 2 grams of carb, 1 gram of fiber.
More Recipe Resources
---
---
All of my books are available in electronic PDF, and now in paperback on Amazon!
---