Salmon Spread - Healthy and Tasty!
This tasty salmon spread is so easy to make and has a rich, creamy texture.  It's a great way to combine the flavors of salmon and shrimp, and increase your intake of healthy Omega 3 fats.
You can use any canned pink salmon.  I think the Member's Mark brand from Sam's club is pretty tasty, and cheaper than buying salmon in the grocery store.  Of course, leftover  fresh salmon that has been baked or grilled would be good as well.  I threw in some steamed shrimp I had in the fridge and it really round out the flavor well, so I've included that last minute edition in this recipe.
Both salmon and shrimp are high in Omega 3 fatty acids. I'm not a big fan of taking large amounts of fish oil, since you don't need much.  Having this spread once or twice a week would probably fit the omega-3 intake recommendations nicely.
---
---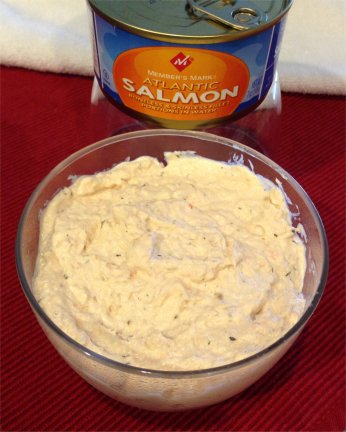 Ellen's Salmon and Shrimp Spread
4.5 ounces cream cheese
2 ounces of full fat mayonnaise
1 teaspoon sea salt
1/2 teaspoon black pepper
1 teaspoon lemon juice
1/2 teaspoon dried dill
4.25 ounces canned pink salmon - no bones or skin*
3 ounces of boiled or steamed shrimp
In a glass bowl,  soften the cream cheese in the microwave for about 50 seconds.  Remove and whisk with mayonnaise until smooth.  Whisk in spices and lemon juice. 
Add the salmon and shrimp to a food processor bowl fit with an S-blade.  Add the cream cheese mixture and process for about 30 - 60 seconds to a spread consistency.  You can eat immediately or chill until ready to serve.
Makes 12 ounces of spread.   Serve with almond flour mini tart shells or wrapped in romaine lettuce leaves. 
Nutrition for entire batch: 1136 calories, 98 grams fat, 7.2 grams carb, 56 grams protein.
Nutrition for 1 ounce: 95 calories, 8grams fat, .6 grams carb, 5 grams protein.
* this is the amount you get from the drained solids of a Sam's club brand 7 oz can
More Low Carb Recipes
---
---
All of my books are available in electronic PDF, and now in paperback on Amazon!
---
---
Done with Salmon Spread, back to Low Carb Recipes

---