Smoked Salmon Recipes 
These smoked salmon recipes show off the delicious and versatile combination of smoked salmon and cream cheese.  The two ingredients are just so good together.
In addition, I love smoked salmon because it's freezable, it's ready to eat right out of the package, and it can be cooked further with no change in flavor, so it's perfect for busy weeknights. Smoked salmon is also a healthy keto food. It contains anti-inflammatory omega-3 fats, and it has a nice balanced ratio of protein to fat.
I buy smoked salmon at Sam's, Costco or BJ's.  It's less expensive and I can get several large packages and either break them up for various smoked salmon recipes or freeze them whole until I'm ready to use them.  
Versatile Smoked Salmon Recipes
The recipe below is one I just eat with a fork, but if you chop the salmon finer, it could work as an appetizer dip with cucumber slices or keto crackers. You could even put it through a food processor for use as a spread.
Important! The nutritional yeast totally makes the flavor of this recipe, so don't skip it.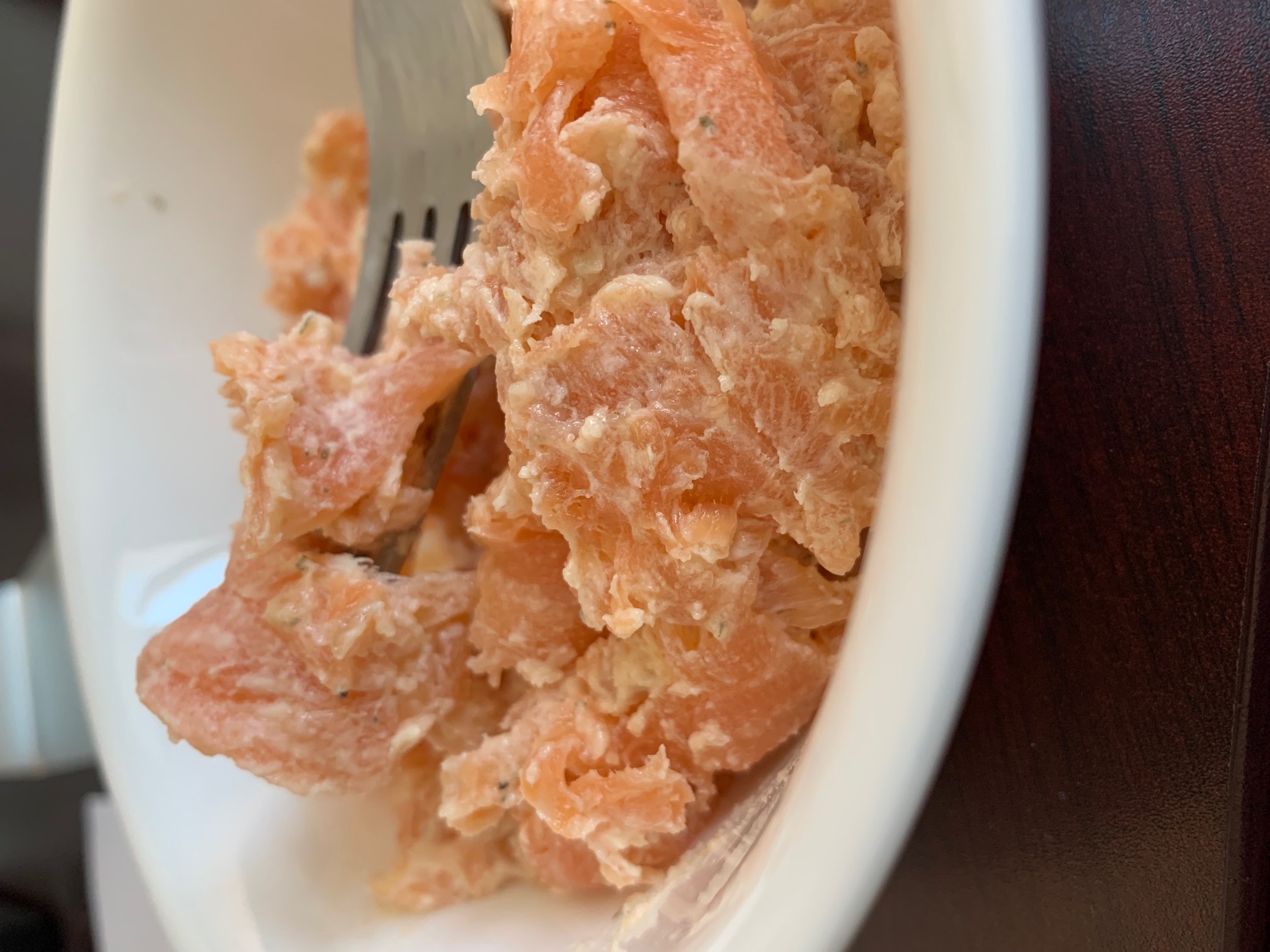 20 ounces Scottish smoked salmon
3-4 ounces cream cheese
3-4 tablespoons Duke's mayonnaise
1 to 1-½ tablespoons Bob's Red Mill Large Flake Nutritional Yeast
½ teaspoon dried dill
¼ - ½ teaspoon Mrs. Dash Savory Lemon and Herb seasoning
Chop the salmon into small pieces.  If you plan to serve this with a fork, use bite sized pieces, if you want a spread, chop the salmon finely.  A food processor can be used.*
In a separate large glass or ceramic bowl, soften the cream cheese by warming in the microwave for 30 seconds.  Remove and let cool for a minute or two.
Add salmon and remaining ingredients and stir to mix well.
Enjoy!

Notes: This recipe makes about 4 cups. The Bob's Red Mill nutritional yeast can be purchased at Vitacost.com or other online retailers.
*If the salmon is finely chopped, you may need a little more cream cheese and mayonnaise to get a spreading consistency. Adjust spices to taste in this case.
Smoked Salmon and Scrambled Eggs
Here's another tasty way to combine smoked salmon and cream cheese. Combining fish and eggs sounds weird at first, but trust me, it is breakfast heaven.   This recipe makes two servings. 
1 tablespoon butter
4 large eggs
3 ounces cream cheese
4 ounces smoked salmon, chopped into bite sized pieces
½ teaspoon black pepper
Salt to taste
Nutritional yeast to taste (optional)
In a medium mixing bowl, whisk eggs until the mixture is uniform in color and texture, and is light and foamy, without any separate streaks of yolk or whites.
Melt the butter in a non-stick skillet over medium heat, until the butter coats the whole pan and just starts to foam.
Add the eggs to the center of the pan and immediately reduce the heat to medium-low.
Wait for the edges to just barely start to set, then using a rubber spatula, stir eggs, so that the uncooked liquid egg mixture is moved to where it can cook 
When the eggs are mostly cooked but still look wet, add the cream cheese, salmon and black pepper. Stir and fold the mixture together to distribute the cream and salmon throughout the eggs. Note that as the salmon cooks, it will become lighter in color.
Just before removing from the heat, sprinkle in salt and nutritional yeast to taste.
Transfer to serving plates and enjoy.
---
---
All of my books are available in electronic PDF, and now in paperback on Amazon!
---