Low Carb Grocery List
This low carb grocery list is by no means comprehensive, but should point you in the right direction. My best advice is to stick to eating mostly real foods such as fresh meat, wild caught seafood, fresh vegetables and natural fats like butter. Canned foods like tuna and salmon are helpful in a pinch, when you need something quick and low carb.

---
---
Meats, Poultry, and Seafood: Staples on a Low Carb Grocery List
A low carb grocery list includes any type or cut of fresh animal products, but for the best health, choose grass fed or organic meats and poultry to avoid antibiotic, pesticide and grain residues. Examples include:
Beef, all cuts such as roasts, ribs, steaks and tips

Bacon, ham and sausage; check carb counts on these meats. Should be 1 carb or less per serving.
Pork, all cuts including roasts, ribs, loin, chops or steaks
Lamb, mutton
Venison and other wild game
Buffalo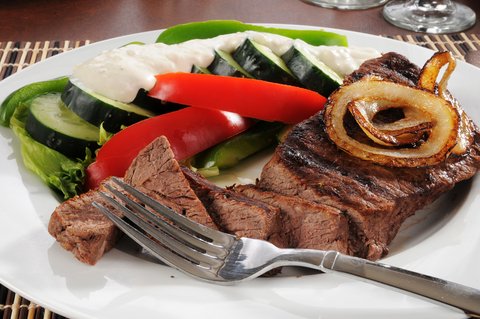 Poultry which has been pasture raised is a better choice:

Chicken - whole or parts
Turkey- whole or parts

Duck- whole or parts
Other birds such as Quail, Cornish hens, goose, ostrich
Deli Meats - good in a pinch and better than high carb alternatives on a  low carb grocery list (check for added sugars):
Cold cuts such as turkey breast and pastrami 
Pepperoni sticks or slices
Salami and bologna
Proscuitto
Seafood: any type or kind. Examples include:
Fresh or frozen fish of any kind, including cod, trout, salmon, swai, tilapia or tuna

Canned fish such as sardines, tuna and salmon, water or oil packed
Fresh or frozen shellfish such as shrimp, scallops or crab
---
---
Dairy Products
Eggs
Heavy cream
Sour cream
Cream cheese
Butter
Cheese: hard cheeses such as cheddar and parmesan
Cheese: soft cheeses such an muenster and farmer
Greek yogurt, plain, full fat. Carb count should be less than 10 per serving.
---
Low Carb Vegetables
Bell peppers
Broccoli
Cucumbers
Cabbage
Cauliflower
Lettuce: large leaves to act as the "bread" for sandwiches
Leafy green vegetables such as spinach and kale
Onions and garlic: for flavorful cooking
Sprouts for salads
Summer squash such as zucchini
---
Nuts and Seeds
Nuts: coconut, almonds, hazelnuts, pecans, walnuts, and especially macadamias.  Nut flours are good to have on hand for baking. These can last a long time if you keep them in the freezer.
Seeds: sunflower, pumpkin and sesame seeds.  
Be aware both nuts and seeds are high in inflammatory Omega 6 fatty acids, so don't go crazy with these.

---
Fruit
Avocados: great snack with lemon juice or balsamic, or make guacamole for dipping low-carb veggies
Fruit: Optional once weight and health are stabilized. Some people can handle the sugar in fruit and still be healthy and slim, others can't. 
If you indulge, pick fresh local fruit in season, and stick to berries such as strawberries, raspberries and blueberries which are lower in sugar.
Eat fresh fruit with a fat (peanut butter, whipped cream, cheese). It slows the blood sugar spike.
---
---
Pantry and Condiments
Canned tuna, salmon, crab, shrimp, sardines, anchovies
Vienna sausages, canned luncheon meat (Spam or Treet) (good in a pinch, but go light on processed meats, as real meat is healthier.)
Tomato products: canned tomatoes and tomato paste (look for the brands with the lowest carb count)
Sauces: Pasta sauce, pizza sauce and alfredo sauce with no added sugar or thickeners
Low-carb veggies: green beans, greens, okra (check labels for no added sugar), sauerkraut
Canned vegetables: green chiles, roasted red peppers, chipotle peppers, mushrooms, artichoke hearts, sun-dried tomatoes in oil (a little adds lots of flavor), hearts of palm
Chicken and/or vegetable stock
Nut butters (natural, unsweetened). These need refrigeration after opening.
Sugar-free dill pickles or relish: use for tuna or egg salad
Mustard (except sweetened mustards, especially honey mustard)
Cider and wine vinegars (use balsamic vinegar sparingly)
Most bottled hot sauces (such as Tabasco)
Most salsas
Tamari soy sauce (avoid soy sauce if you are gluten sensitive)
Mayonnaise – look for the brands with the lowest carbs
Sugar-free salad dressings
Capers
Horseradish
Olives
Lemon or lime juice (1 gram of carb per tablespoon)
Pork rinds (crushed, these are a good substitute for bread crumbs)
Beef jerky or beef sticks
---
Cooking and Baking Ingredients
Whey protein powder, plain, vanilla and chocolate flavors
Splenda or other artificial sweeteners or
Erythritol, xylitol and other sugar alcohol sweeteners
Herbs and spices (but watch for mixtures with added sugars)
Extracts (vanilla, lemon, almond, etc.) – avoid the ones with sugar.
Broth or bouillon
Cocoa powder which is unsweetened
Gelatin (plain)
Xanthan gum for thickening and binding
Extra-virgin olive oil
Peanut oil and coconut oil for cooking
Sesame oil for salad dressings
Almond flour or other nut flours: flour substitute; keep these in freezer
The low carb grocery list above should get you started on creating a pantry stocked to help you stay on course. There's another great list with some tips on the Virta blog as well.
Below are some of my favorite low-carb cookbooks.

Favorite Low Carb Cookbooks
---
---
All of my books are available in electronic PDF, and now in paperback on Amazon!
---
Done with Low Carb Grocery List, back to Ketogenic Diet Plan