Low Carb Quiche Recipes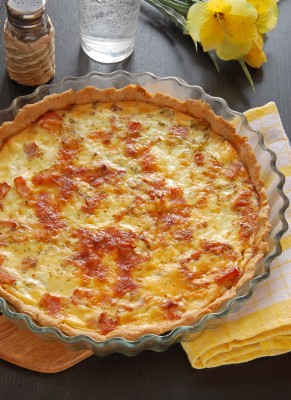 For these low carb quiche recipes, I use a 10 inch CorningWare Quiche Pan for the first quiche, and a 9 inch deep dish pie pan for the second quiche; no special reason, it's just what I have to use.
Any medium melting cheese works well in these quiche recipes. I prefer milder cheeses like muenster or havarti, but cheddar, swiss, monterey jack and gouda are also good choices. I don't recommend using the hard cheeses such as parmesan and romano, as they don't melt well, and they are too salty.
Although you can create a low carb pie crust with almond flour as in the picture, you'll note that these low carb quiche recipes are crustless, which makes it very easy to keep them low carb. And surprisingly, the egg-cheese mixture doesn't stick, as long as you butter the pan.
I make a couple of these low carb quiche recipes every Sunday and have a slice every day for breakfast, which saves me lots of time in the morning and makes it easy to stay on my ketogenic diet plan. At times, when I'm really busy, I'll bring a slice for lunch, and throw on a ounce or two of brie before reheating.
---
---
Basic Cheese and Onion Quiche
Makes 2 quiches.
5-6 cups shredded muenster and/or colby jack cheese, divided in half
2 tablespoons butter plus more for greasing pans
1 large white onion, finely chopped
12 large eggs, preferably organic or free range eggs
2 cups heavy cream
1 tsp salt
1 tsp ground black pepper
2 tsp dried thyme
Directions:
Preheat oven to 350 degrees.
In a separate skillet, add the butter and melt over medium-low heat. Add the vegetables and saute until onions are translucent and soft. Remove from heat and cool.
Butter two 10 inch quiche pans or deep pie pans. Put 2 cups of shredded cheese in bottom of each buttered pan. Add 1/2 of cooled vegetable mixture to each pan in an even layer over cheese.
Crack 12 eggs and pour into a large mixing bowl. Add the cream and spices, and whisk together until well mixed and frothy. Pour 1/2 mixture over each pan of cheese and veggies, then use a fork to gently and evenly distribute cheese and vegetables into egg and cream mixture.
Slide quiche pans into oven, leaving an inch of space between pans. Bake for about 20-25 minutes or until set and puffy and slightly golden in the center. You can also use a knife to insert into middle of one of the quiches, and if it comes out clean, they are done.
Cut each quiche into 6 equal sized servings for a total of 12 servings. Serve immediately, or cool and refrigerate or freeze. These will keep in the freezer for a two weeks, or the refrigerator for a week.
Nutrition: Serving size = 1/6 of a quiche. Each serving has 382 calories, 16 grams of protein, 33 grams of fat, 5 grams of carbohydrate and 1 gram of fiber.

More Low Carb Quiche Recipes:
Cheese, Onion and Bacon Quiche: Place 12 slices of raw bacon on a cookie sheet and bake at 350 degrees for 20 minutes or until slightly crispy. Cool, then process into fine bits in a food processor. Add to the egg and cream mixture in step 4 above. Nutrition: Serving size = 1/6 of quiche. Each serving has 390 calories, 19 grams of protein, 34 grams of fat, 6 grams of carbohydrate and 1 gram of fiber.
Cheese, Onion and Sausage Quiche: Cook 6 ounces pork breakfast sausage in separate skillet until done. Cool and crumble. Add cooked sausage to vegetables before spreading over cheese in step 3 above. Nutrition: Serving size = 1/6 of quiche. Each serving has 380 calories, 17 grams of protein, 34 grams of fat, 6 grams of carbohydrate and .5 gram of fiber.
Veggie Quiche: Add your choice of finely chopped extra vegetables in step 2 and saute along with onions. Any low carb vegetable works; try shredded carrots, broccoli, cauliflower, peppers, celery, summer squash, etc. This will be higher in carbohydrate count depending on veggies used. Add 1 gram of carbohydrate to each serving for every cup of raw vegetables added.
Kitchen Sink Quiche: mix and match minced smoked ham, bacon, sausage and any vegetables using methods above. Quiche is almost like a pizza in a way, in that you can add just about anything you have on hand, if you think it will taste good in combination. Adjust nutrition counts as needed.
I hope you enjoy these low carb quiche recipes. I've been making them a long time and have finally hit on a recipe that tastes great every time, reheats well, and keeps in the fridge for a week or two.
---
---
All of my books are available in electronic PDF, and now in paperback on Amazon!
---