Baking with Almond Flour
Baking with almond flour is fun and easy and the results are delicious and satisfying. Almond flour can be made from blanched almonds (skins removed) or unblanched almonds. Both products are simply almonds which have been ground into a fine meal or flour like product. I much prefer the blanched almond products. You can use the natural almond flour in some recipes, but most baked good recipes turn out better with the blanched flour.
Almond flour is also much better for you than wheat flour.  It contains much higher amounts of protein and fiber, has little to no effect on your blood sugart, and it's full of potassium, magnesium and other healthy minerals and vitamins.  It's also satisfyingly dense, and imparts a rich, flavorful result to baked goods.
---
---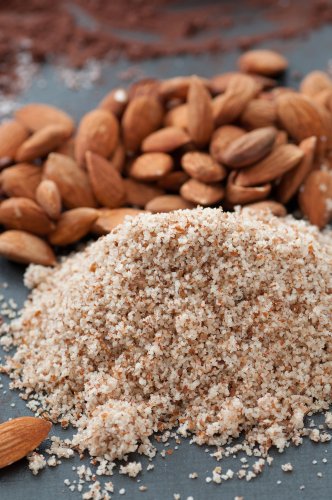 Using Almond Flour
You can use almond flour as a wheat flour substitute in almost any baked good recipe, and usually the ratio of substitution is about one-to-one.  So for example, if you are making chocolate chip cookies, and the recipe calls for 2 cups of regular flour, you can use the same amount of almond flour. 
The difference you'll find with almond flour is that it is much, much higher in fat, so you don't need as much butter or shortening as you would when using regular wheat flour.  In addition, almond flour lacks the "binding power" of the gluten in wheat flour, so eggs are essential in any baked recipes.  Some recipes use protein powders and xantham gum to help bind the ingredients together.  I have developed a baking base which uses cream cheese, butter and eggs and I no longer have crumbling issues.
Another thing to take note of is in the measuring of almond flour.  Use measuring cups and don't pack it down. Simply scoop it out of the storage container (it should be at room temperature) and then level the top with a knife.
Buying Almond Flour
You can buy almond flour in most grocery stores in the organic baking section.  I find it easier to order it online.  In choosing a brand, note that some almond flours are coarse and more like a corn meal consistency, and some are milled to fine consistency with a texture closer to wheat flour.  For most baked goods, the finer milled products give better results.  Honeyville brand is finely milled, and is the brand I prefer.  I buy it in large amounts to save on shipping, and if you sign up with your email address, they will email you when they have sales.

You can also make your own almond flour, or really any nut flour you want to use.  Check out Peter Reinhart's book The Joy of Gluten Free , Sugar Free Baking for information on how to do this, or search for info in Google or Bing.
Storing Almond Flour
Almond flour should be stored in the freezer.  You can keep a glass container of 2-4 cups in the refrigerator for weekly needs, but in general, it will last much longer without spoiling if you freeze it. 

---
---
Recipe Resources
There are many, many blogs and websites devoted to baking with almond flour. Some are low carb, some are paleo (which means higher amounts of sugars) and some are just regular baking sites. The links below will take you to my favorites:
And here are a few of my personal recipes for baking with almond flour:
---
Cookbooks that Provide Instruction on Baking with Almond Flour
---
---
All of my books are available in electronic PDF, and now in paperback on Amazon!
---
 Done with Baking with Almond flour, back to Low Carb Recipes